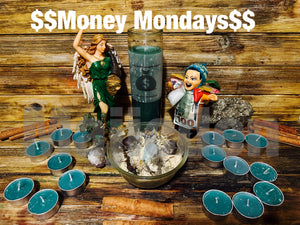 $Money Mondays$ (Tea -Lights ) Every Monday )starting 12/1-Money wishes/ abundance/ longevity/ windfalls of cash/ money drawing and prosperous financial endeavors/ Casini / scratch off/ bingo/ luck on a hurry / Fortunate situations/ luxury/ sugar babies
(please get your orders In a few  days prior or a week ahead in advance / orders placed same day  or 2- 3 days before will be done the following week ) I hand pour and dress all these t lights and write out the petitions days prior so i can be fully ready ) Thankyou 

 Blessings ✨
Each Monday i will set a T light on your behalf/ name dob engraved in candle and a small petition written under each one to help you fulfill your money desire. 
 The goal is to  Build energy and draw in the attention needed per you situation/ you will have a general money  petition written with that one keyword in place  and I'll write 1 sentence pertaining to it.
For example some of you may spend alot so you can say money stay , more money , balance with finances and I'll write up a petition to help your money stay put!
Some of you may want more abundance, stability financially, growth , longevity, some of you may have a $ amount in mind ,you can tell me $100 more weekly etc .
One situation per person/ you can't have more than one goal over the T light plus the petition will only be able to for a short sentence. If you desire numerous  money fails you can have them set weekly on different T lights .
The method here is to keep energy over you and you situation to open up the universe and direct money matters towards you . T lights will stay lit up to 4 hours. If you feel you need something more personal you can opt out this, and  have a Glass light set , or a heavier service along with doing baths / using soaps and using the oils at home . 
no pictures are needed. 1 person per petition / If you desire several goals please purchase more than 1 petition. 1- 7 day candle will stay lit to be completed through the sessions weekly and boost the spiritual energy even more upon you all   . Blessed dressed and prayed over each T light . 
T lights should be lit on a regular basis to increase energy / open universe to your needs and boost grants by spirits / ancestors and  saints petitioned 
Thanks for shopping with me 
Many blessings to you All✨
---
We Also Recommend