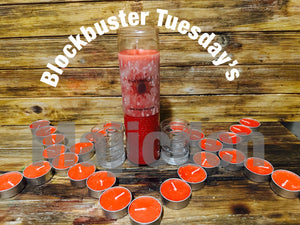 Blockbuster Tuesdays (Tea-lights ) starting 12/1-( Every Tuesday )remove blockages at work/ home and relationship / mental blocks and writers blocks/ remove people places & things crating heavy obstacle/ dynamite all blocks keeping you stuck
(please get your orders In a few  days prior or a week ahead in advance / orders placed same day  or 2- 3 days before will be done the following week ) I hand pour and dress all these t lights and write out the petitions days prior so i can be fully ready ) Thankyou 
Blessings ✨
Each Tuesday i will set a blockbuster t light on your behalf with a general petition and a keyword in mind for your goal/ if you have blocks at work you can write that, for example/ friendships/ love/ writing/ thoughts/ in energy/ people/  communication/  neighbors/ etc
what ever it is all i need is one keyword and I'll formulate the petition with a short sentence/ engrave with your name and dob and that will be the focus.
Each T light can only manage one situation so please/ 1 situation per light. If you have several blockages you can have a few t lights written up over your name. All will be blessed and prayed over and they stay lit up to 4 hours straight 
 no pictures are needed. 1 person per petition / If you desire several goals please purchase more than 1 petition.1-  7 day candle will stay lit to be completed through the sessions weekly  . Blessed dressed and prayed over each T light . 
T lights should be lit on a regular basis to increase energy / open universe to your needs and boost grants by spirits / ancestors and  saints petitioned 
Thanks for shopping with me 
Many blessings to you 
---
We Also Recommend