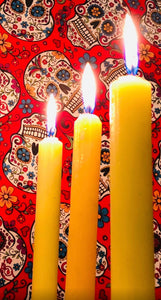 ✨1-day Spiritual Service- /Runs in 3s/6s/9s -Super candle - choose your Service Quivkhits/Fast luvk/ clearance/ protection etc
My 1-day spiritual services will be worked with a  6" super candle. Dressed, prayed over and written on to help move create spiritual changes and energy  in your life.
my candles burns between 6-8 hours sometimes 10 if it's a slow burn .
I will set your candle with fresh herbs, my handmade incense and a special written petition to help create the blessing you need in your life .
please send your photo dob and full name .
you have a choice only from the options below 
your service will be worked upon my availability in 7-10 days  , Moon phase or day of week and you will receive a email when it's started . 
After The service is disposed you will receive a brief report with photo on the burn .
After the service is completed I will dispose of remains if any at a crossroads /or my garden 
*service  can be repeated on target every 21 days 
Services  will be rotated 
what's available is listed / if it's not listed it will be on my next  rotation.
Reconciliation  
Blockbuster
S for success 
work work
Money stay
Quick hits -lucky spell 
Come to me 
Reconciliation 
Obsession
Follow me boy/girl 
Court case(minor) ((tickets, fees. Summons for car , small cases 
Cleansing
Protection
Law stay away 
Home Protection 
kids protection -per child  
Compel/control 
Boss fix
blockbuster
Road opener 
S for success
Work-Work
Spell Protection 
A small report will be emailed 
Saint /spirits /Deity's  custom  services are also available please email me for inquiries.
Majichan1@gmail.com
---
We Also Recommend