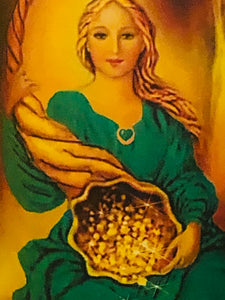 ✨2024-Spirit of abundance group service/call forth upon her benevolent & Generous energy grant your financial needs and wishes)work/career/more financial support / business boost / surplus of stability and security with cash flow and monetary gains
Many blessings to you all
my group services as your all familiar with dont come with Individual report and Individual emails with photos.
1- name per candle per Situation /chimes 
This stands the same , i will post in instagram or here in the shop  the photos at bottom of the page . If you need something more personalized please order a light to set your intentions for her and you will get a report and photo personally emailed . 

The spirit of Abundance group services is done in a group / on the same day listed in my group altar  
Please don't ask for a whole family of names to go onto this candle / it's one per person .
All i need  is name and dob / emailed to me or leave in notes to seller when ordering  ( which is best so when i pull order i have all the information needed)
Please leave 2 keywords on what you want the candle to focus on , i will write the petition .
you also get a email when it's starts stating it was fulfilled 
Thanks for looking ✨
---
We Also Recommend