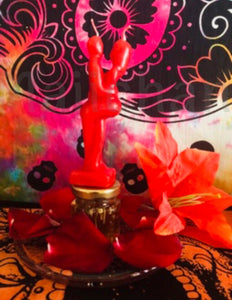 Sex and Majic honey Jar and candle-New sex, lust ,affection, attraction keep your partner sexually satisfied!!
My sex and majic honey jar is great for anyone who want more sex and love from their lover. Lust passion and want to sweeten the relationship .
The lovers candles is a woman wrapper around a man in a sexual position and him holding her tight . The candle is 6" it will be dressed and fixed and prayed over along with a mini honey jar . 
Personal concerns can be added if you have , you can also add  your lovers name using the photo of you and your lover and add in Sperm and or your sexual fluids from you underwear and wrap it inside the  honey jar .
no petition is included in Jar so you will have to write one out and you can make a general person for move love , sex, lust and passion from your lover 
1- honey Jar
1-Lover sex candle 
---
We Also Recommend