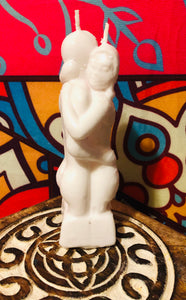 Relationship Cleanser-(plus 1-light)Service cleanse renew restore-regain balance friendship and insight
My relationship cleanser can be done on any 2 people, that need a spiritual  cleansing to clear away blockages between them and cleanse away curses and hexes that have been sent to the relationship . you and your lover, husband , wife , girlfriend or boyfriend . best friend  and or family member .
Relationship candle will be set with  2 lights in each side 
Cleansing  both hearts minds and souls as well as to renew the friendship, better communication and center you bath back into that good space. 
A cleansing  light will also be set with your work 
please include both full names and tell me what you want repaired and cleansed .yes you can send personalconcerns to me , message me for my P.O. box 
dob-( birthdays )and photos. If you dont that, that's ok , send me what you have. Leave it in the notes or send it to my email. Please leave a note to seller that you will send the information to my gmail.
Thanks for looking 
Service is done within 21 business day after items are created , service will take 7 -9to complete and I will send photos and a full report .i schedule everything , it can take longer to set service depending on my altar space as well but I will always contact you or you can message me to find it if I have scheduled it . 
majichan1@gmail.com
be blessed Thankyou for looking . 
---
We Also Recommend