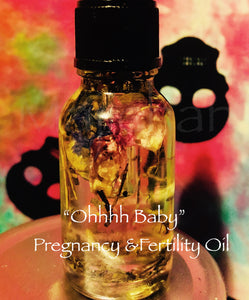 Ohhh Baby - oil-Pregnancy , Protection, conceive , Strength , courage 1-oz
my ohhh baby oil was created for pregnancy and fertility.
protecting you during pregnancy and shielding baby safely along the way .
work my oil in your spells , pregnancy candles ,  pregnancy oil lamps , Fertility bottle spells , pregnancy sweet jars etc...
work my ohhh baby oils when your finally ready to settle down and begin your journey into mother hood
pink candles can be lightly dressed and worked upon the New moon and its waxing cycle to help bring forth blessings while you conceive 
Flip a clean plate over ,Place your petition under a white plate and the candle on top the plate . Lighting the candle ONLY on the nights you and you partner have sex
each pile of wax ( if any )should be placed into a pink mojobag, along with herbs , your personal concerns and his  and worked within a sweet jar spells ;to sweeten your chances with pregnancy and having this baby stick!
1-oz Large bottle 
Good luck to all
Thanks for looking 
---
We Also Recommend