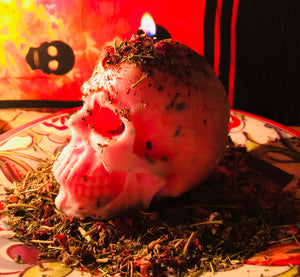 Make up your mind-Custom skull service 9-12 days ( some skulls take longer to burn )
This custom skull service is for those of you that simply can't make up your mind . Your stuck inbetween what skull to get and or you just want a skull made for your personal situation.
i will custom make any color and type of skull with 3 types of oils and herbs you have in mind. Each of my skull services are set with 2 - 4 inch mind teaser candles to help the mind illuminate and sync with the work. Your skull will come with the same but instead of 2, 3  mind teaser will be made candle .
please be sure to email me to see if this service is best for you and I will offer a free email consultation to help you select the best service for your mindful situation.
please send me full name , photos and dob if the person and or yourself if skull is for you .
skull is services upon my availability and altar space.
Skull is typically scheduled to be serviced after its made, dressed and prayed over , so within 30 business days .
please email me all the details, full name, dob, photos . If you don't have a dob or ohtos and you have the name , address and anything else to link to them phone number and email address send it .
I've been working g my skulls long enough to connect energy and synecdoche them with energy and personal concerns of any sort .
If you have personal concerns I will give you my P.O. box to mail then to. Nails or hail and please send 2x2 cloth of their item workin with their essence embedded.
THe area where their dna and sweat was most absorbed is best . 
---
We Also Recommend