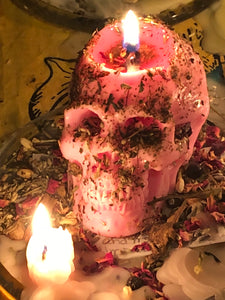 Come to me skull-service- draw forth your lover : mentally and emotionally work them to physically desire wAnt need and love you more and come to you in time of need
When things feel like they aren't goin your way and the love you've given and time spent seems to be fading and all you want and need is your lover.
great for helping  them come home, reconciling, come to you, draw them close  
draw them back with my custom come to me service, get them to call you and come to you when you desperately need them. My come to me skull is worked-9 days sometime longer depending on how the skull burns. I will pray over the skull and work it each day to sync your lovers mind . I will use fresh herbs and incense and a special petition written to get in their mind.
please email your lovers information , dob and photo if you have it for this service along with any other details you have . 
Of you have personal concern please message me for P.O. box so you can mail this .
majichan1@gmail.com
all my services are scheduled typically within 30 days  after I make the skull and items for service .
services are s jeduked upon my availability and altar space .  
2 special candle will also be set with this service , mind chaser candles to help entice the work. 
You wilo be email when i start the service and when it's completed and disposed you will receive a full report  and photos of your service. The report will be entailed with details of how the services burned used divination with wax, flame , smoke and divination read over the skull as its burns . This give a great idea on what to expect in the weeks to come after the service .
thanks for looking 
---
We Also Recommend