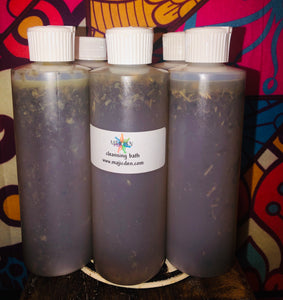 Cleansing spiritual bath- cleanse , clean, clear away negativity, release bad energy, repel evil, remove nastiness built up in you and remnants of heaviness from unknown witchcraft and low vibrations hindering your soul -8oz bath
My 8oz cleansing bath is great  for cleansing  your body heart and soul. Cleanse away that nasty energy, negativity, aura your mind  and blocks holding you down , help cleanse away low vibrational energy .
My cleansing bath can be added  to a bath , mop water and in mist bottles 
water ,'spray bottles  and mixed with water to dilute. 1/2 of the bottle should go in and you should light a cleansing candle also.
Use whole bath if you've never cleansed and energy is heavy 
Burn some sage, psalms 23 along with your own personal request for the candle .
---
We Also Recommend