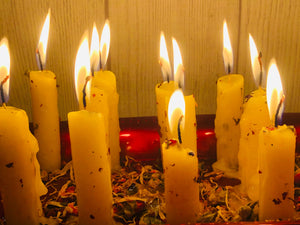 Dec 11✨✨✨Blessings group service-Blessings to your family home business, new family, new home
blessings services 
this is a affordable group service, not a individual service. Pics will be posted as they usually  are on my Instagram or my shop website No Burn reports ;Please order a personal service  if you wish to be accommodated  personally 
service is completed that Monday 
Blessings to all , my blessings group service is affordable to all who want some spiritual  blessings pouring in each direction if their life. 
Sometimes a Bit of spiritual direction is  needed , change and prayer to helps your blessings get to you .
i will create a handmade candle dressed , blessed and prayed over and set in a group of other blessings candles to create strength, power and a multitude of a spiritual force to help your blessings pour in .
Love, luck, a new home , a new car, a new family , abundance and a surplus in your business, new clients ,spiritual awakening , financial security , prosperous beginnings , opened roads etc.. help create your blessings.
multiple candles can be purchased for numerous blessing you wish  to enter or you can have a general petition and I will create that.
Full name and dob .
Thanks for looking many blessings to you all  
---
We Also Recommend