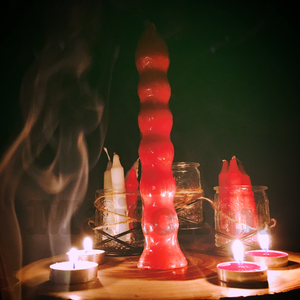 7 Days lover wish-7 loves wishes to entice/ better your relationship, marriage and sex life/ commitment/ Trust
This service is created with a 7 knob candle to help you with all your love wished . This service will be done within 30 days .
Each day I will burn a knob and help you create the love you want with 7 different wishes , passion, romance , love , desire, commitment , loyalty, trust what ever you want more of let me help you create it . You can even have one worked for lust. Friends with benefits, whatever you desire can be meet.
For 7 days each day 1- knob will spiritually burn all the way down, working to the very last knob, each one will be prayed over and burned down, incense will ensue the knows until it had been done , being snuffed out after its full know had been done, repeating the same steps until it's done in full . Remained will be wrapped in a mojo bad and mailed** to you to keep your wishes wrapped up and with you. Remains can be buried in soil in a potted plant such as a flower to continue growing throw energy ;on your property or in your home .


Please Leave all details below in the notes and you can email me the photo after purchase. Name , dob and any other details should be included.

All service are scheduled typically within 30 days, days and or moon phases will determine this scheduling .

You will be notified on the day your service is started with a start email and photo of the work once it has been started.

A report and 3-5 photos will be emailed . The report will give details as to how the work went , I will read the flame, wax , smoke and you will receive a detailed report as to what to expect with the burn results .
Reports are emailed 7-10 days after due to heavy volume.

Please leave your full names, dob and details in the notes

Photos can be emailed to
majichan1@gmail.com

Stay Blessed
---
We Also Recommend